Save A Bundle On These BDU Pants
Offering four different types of BDU pants its no problem trying to get some to go with that shirt. Four different types and some with a few color options get make a full outfit of durable and comfortable clothing. Great for anyone who is in law enforcement, military, EMS, and Fire. Don't worry if you're a penny pincher because these will last you a long time.
BDU Tactical Pants come in 3 different colors dark navy, OD green, and black. Straight legged and made with highly durable tear resistant cotton for comfort and ease of movement. Not only is it comfortable but gives your uniform a great look. Made with a stretch waistband and sized to fit it definitely qualifies for a comfortable pair of tactical pants. Each of these pants include 10 pockets for storage of equipment.
Multicam BDU tactical pants comes with padded needs for comfort of those getting down and dirty in the brush. Making moving incredibly easier while going over rocks and broken twigs. These also come with bungees for blousing which is typically worn in the military uniform style. These pants are very durable making it a money saving.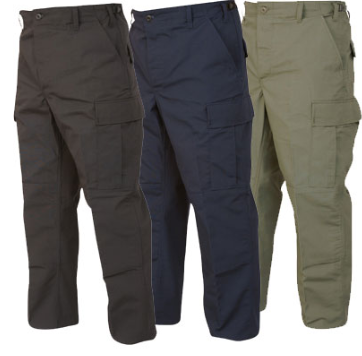 Cotton blend BDU pants are made with a twill and cotton blend that give these pants a 10 percent stretchability making it both comfortable and easy to maneuver in. Great for EMS and Law enforcement. The pockets are made with a strong cotton blend to ensure durability when storing equipment in them. Knees are double padded so has to make it more comfortable while kneeling on dirt and rocky areas. Along with its stretch waistband it has a silicon shirt grip making it easier to keep your shirt tucked in nice and keep you looking your best.
Women's BDU tactical pants made with high quality no rip cotton blend for durability. They include a pocket for a knife as well as 10 other pockets for storing equipment. Stretch waistband with silicon shirt grips to keep you looking your best while at work. Padded needs for getting down on the ground and keeping your knees from getting banged up on rocks and twigs.
Rolf from Illinois says "Buy them, you'll be glad you did!" A sure sign that these pants are well worth the money spent. Mark also says " I have used the pants about 20 times. I love the product. The color does not fade like most black pants after several washes. I would recommend the pants. I am part of a K9 unit and have tested them to the extreme. They have passed." Both of these customers are both satisfied with the durability and comfort of these pants.
Save some money today. Instead of always having to replace part of a uniform over and over again and draining wallet buy these high quality pants. Save some money and enjoy the comfort and reliable pants that will last you for a long time.