Tactical Boots - What You Need To Know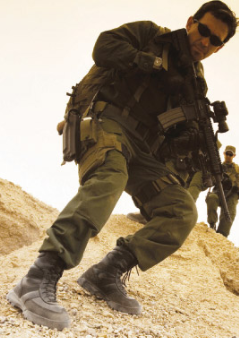 There are lots of tactical boots to choose from in the market with varying sizes, functionality, types and color. It is best that you try to find a boot that fits to your situation, whether it is for recreation or work.
There are basically three categories when it comes to boots that are tactical in nature. There is the everyday use or recreational, then there is the Military and Law Enforcements. Each category has their own unique properties that fit well with the intended purpose. This article will enumerate some of the key differences between the boots so that you can make an informed decision on what pair of boots will work well for your purpose or environment.
Law Enforcement
Law enforcement personnel utilize boots as a part of their uniform. This usually means that the color of the boots is black. Street officers and patrol officers needs some key features in their boots. First, they need a pair of boots that allows them to run quickly and comfortably. These law enforcers may need to pursuit a suspect by foot, thus the boots should be lightweight and at the same time durable. Slip resistant soles are highly advised. The boots may require tow lugs for climbing obstacles or trees. Heel lugs for breaking fast is also advised. Safety toe in the boots may depend on personal choice. However, it is best that you have it when you need it, rather than need and you don't have it.
Military
Boots that are needed for Military purposes have a different set of requirements. Most of today's military are usually in an environment that is dry, hot and sandy environments such as Afghanistan or Iraq. In order for the boots to be effective, it needs to mesh with the environment or topography very well. This means that dessert boots are the ideal preference. Dessert boots come in a color that is light coyote brown and are designed specifically to function in hot climates. Some key features of these dessert boots are anti-bacterial moisture-wicking lining and instep vent holes. This will help keep the feet of the military personnel cool, dry and comfortable.
Recreation or Everyday Use
The last boots would be for recreational use, outdoor enthusiast or everyday use. One of the great things about these kinds of boots is that they ready to wear out from the box and extremely comfortable to wear. This something that most outdoor enthusiasts are looking for since comfortable shoes can carry you further in an uncomfortable terrain. Imagine walking or hiking for long period of time in uncomfortable shoes, the terrain will wear you out easily. Good features that can be found in recreational boots are adequate volume in the front part of the boot and a secure tight fit ring in the middle and ankle. A big plus would also be a water proof boot with a breathable membrane for increased comfort.
There are plenty of boots to choose from for a good reason. Different boots have different purposes. Hopefully, after reading this article, you will have a good idea on what to look for in your pair of tactical boots.