About Rethink Level A: NFPA 1994 Class 1 is a new option for your Level A suit requirements.  Class 1, which was added to the NFPA 1994 standard in 2018 (and which the Blauer Multi-Threat suit meets) is recognized by OSHA and also cited in the NFPA 1991 standard as Level A due to the higher degree of chemical permeation performance (as compared to Class 2) and can be fully or partially encapsulating with the SCBA worn on the outside of the suit.  You now have additional Level A suit options for tactically demanding HAZMAT missions.
The threats and performance requirements that first responders face today are radically different than the past. Hazardous industrial chemicals and materials are used in more industries than ever and are stored and transported throughout the country. First responders now join the ranks of dedicated HAZMAT teams and military personnel as being required to maintain operational readiness for CBRN incidents as terrorist organizations target these chemicals and materials as relatively easy to access tools of mass destruction for use in heavily populated civilian areas. Homeland Defender® ensembles made with GORE® CHEMPAK® fabrics provide the confidence needed to get the job done in the worst CBRN environments.
Certified to the NFPA 1994 Standard on Protective Ensembles for First Responders to Hazardous Materials Emergencies and CBRN Terrorism Incidents, and the NFPA 1992 Standard on Liquid Splash-Protective Ensembles and Clothing for Hazardous Materials Emergencies, Blauer's Homeland Defender® suits provide a higher level of protection required to operate in tactically demanding "hot zone" and "warm zone" environments. Homeland Defender® suits are independently certified to strict design and performance requirements.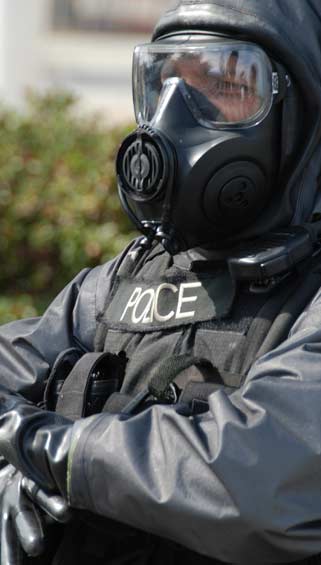 Modern Day Threats Require Cutting-Edge PPE Performance
The GORE ® Chempak ® Advantage
Speed and Mobility
Homeland Defender® suits fit your body like conventional outerwear and are certified for use with tactical-style boots. Unlike most traditional HAZMAT suits, our suits allow you to run, jump, and move as needed without compromising protection from dangerous chemical and biological agents.
Comfort As A Force Multiplier
Homeland Defender® suits offer a level of comfort that allows responders to function effectively for long durations until the mission is complete. Each suit is designed with a cooling mechanism to alleviate heat stress as compared to conventional HAZMAT suits. This allows for extended response durations and fewer shift rotations.
Durability
The durability of any CBRN suit is important from a safety and investment standpoint. Homeland Defender® suits are uniquely rugged in both fabric and seam construction to allow for worry-free tactical, rescue, and Decon operations without the need for chemical tape. Homeland Defender® suits can be reused multiple times if they are not contaminated.
Above and Beyond OSHA
Homeland Defender® suits raise the bar for what first responders should expect from their CBRN ensembles. OSHA-rated HAZMAT suits are designed for cleanup and decontamination operations but can be cumbersome, uncomfortable, and delicate. The Multi-Threat suit, RC3 suit, XRT suit, and BRN-94 suit are designed specifically for operations where speed, comfort, and durability are crucial.
NFPA 1994 vs. OSHA
Most HAZMAT and SWAT teams operate in OSHA-rated suits that have changed very little in design and functionality for decades. The problem with this approach is that OSHA ratings only indicate how the suit is designed to interact with the respirator or SCBA and do not factor in any performance requirements related to chemical permeation or penetration. In contrast, the NFPA 1994 and NFPA 1992 standards are built around both design and performance requirements. While no HAZMAT suit can guard against all chemical and biological threats, ensembles certified to NFPA standards are intended to provide protection against a much broader range of threats than basic OSHA-rated suits, which are made from numerous fabric technologies, each engineered to protect against specific chemical threats. Although there is no official relation between the two standards, a rough comparison of the various NFPA 1994 classes to OSHA levels may be helpful.