Blauer boots were built from the sole up with feedback from the field on every detail.  They were in development for over 2 years before we finalized the design and started manufacturing them.  With over 80 years of experience supplying law enforcement, fire fighters, EMS teams and other first responders with first class uniforms and other gear, designing high quality footwear was the next logical step for Blauer.  We put every individual component through rigorous testing both in the lab and in the field because we wanted to be sure we were creating the best possible tactical and duty boots for public safety.
Through our past experience, the best way to ensure the best gear is created is to listen to the people who use it every day.  That is why we partner with local public safety agencies and individuals to field test our boots as well as get their opinions throughout the development process.  This information is vital in order to create a boot that meets the needs of those who need it most.  Things we kept hearing loud and clear were comfort, durability, traction, and options for waterproof.  You asked and we answered by packing tons of great features into our boots.
Who Needs Laces?
The first thing we noticed is that all public safety footwear was made using zippers.  The problem with zippers is that even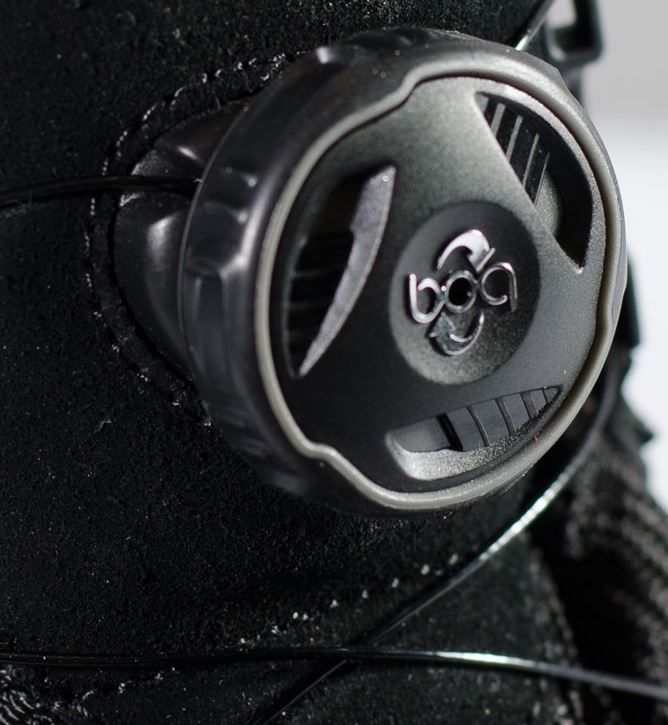 when fully open it is difficult to get your foot in so we found most users wearing their boots loose, which is not good for foot stability or comfort.   We tossed the zippers in favor of the new BOA lacing system, which is not really a lacing system at all.  Traditional shoelaces are replaced with a system that uses braided steel cables that are incredibly strong and guaranteed for the life of the boot.  The BOA system adds to the comfort, durability, and utility of the boot because it provides an even and secure fit with no pressure points that are often caused by shoelaces, and will not untie or loosen throughout your shift.  A quick twist of the BOA knob will tighten the cables and provide a snug fit that won't loosen all day long.  This makes it easy to find the perfect fit, and not worry about laces untying or loosening as you're running, walking, or going about your duties.  Pulling the BOA knob outward will release the tension and loosen the boot.  Blauer boots can be put on and taken off in seconds, even submerged in water.
Waterproof Boots Available
Both the 6" and 8" Blauer boots have waterproof and non-waterproof styles.  The upper materials of the boots are backed with waterproof film and the leather used in the boots is waterproof treated at the tannery as well.  There is also a waterproof membrane around your foot that provides 5" of submergibility without your foot getting wet.  Blauer waterproof boots are perfect for a rainy shift or long march through wet terrain.
The Best of Comfort and Durability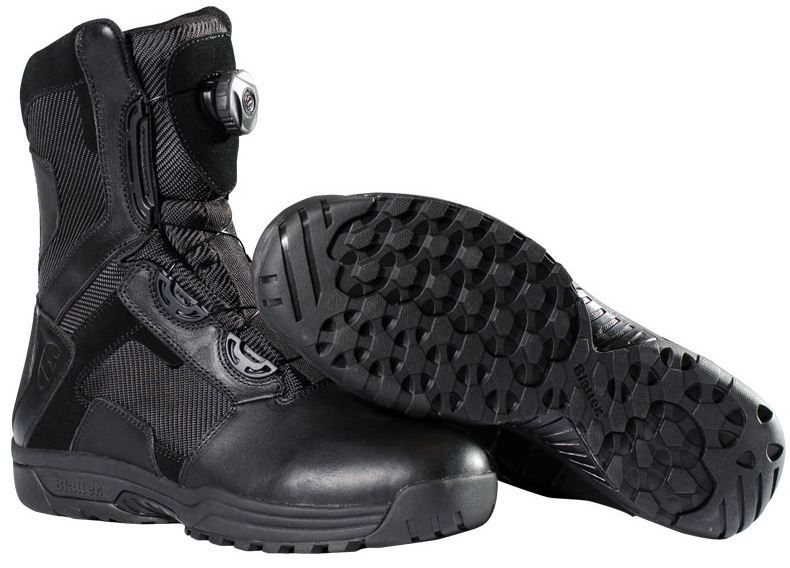 The number one feature sought after in tactical and duty boots is comfort.  If a pair of boots is going to be worn for a 12 or 16 hour shift, or longer, they need to be comfortable.  Blauer boots are made to be lightweight and comfortable, while still providing unmatched durability and protection.  The highest quality materials were selected to create our boots, which use a mix of carbon rubber, EVA, polyurethane foam, leather, suede, and nylon.  The high quality leather provides superb durability, and the nylon provides breathability as well as weight reduction.  We also created a custom insole made from antimicrobial fabric and partially recycled polyurethane foam with a heel cushion as well as a lightweight compression molded EVA midsole that has higher rebound properties than typical die-cut stock EVA to keep your feet comfortable even after long days on your feet.  We also noticed that many popular public safety boots were being built on running shoe outsoles, which is great if you only plan on running forward in a straight line, but not if you plan on moving in different directions.  So we developed a customized outsole inspired by tennis and driving shoes, which allows for mobility and comfort when moving front and back, side to side, up and down, and diagonal! The oil and slip resistant non-marking rubber soles are designed with Blauer's unique hybrid traction tread pattern which is designed for maximum traction in all conditions from the street, to snowy, muddy, and wet off-road terrain.
Blauer's custom unique radius heel was inspired by professional racing shoes and provides optimal comfort because there are no points in the back that push into your heel while running, walking, or driving.  These high quality components made all the difference when field-tested for long periods of time.  Other features include an antibacterial and moisture wicking lining to help keep your feet clean and dry, a rubber patch on the heel for added protection, a notched back collar for added comfort, a full grain leather toe that will always take a nice shine, chain-link fence climbing grooves, waterproof options, and did we mention the BOA lacing system?
Blauer boots are clearly the best choice for tactical boots and duty boots.  Get yours today!