Save Money On These High Quality Tactical Shirts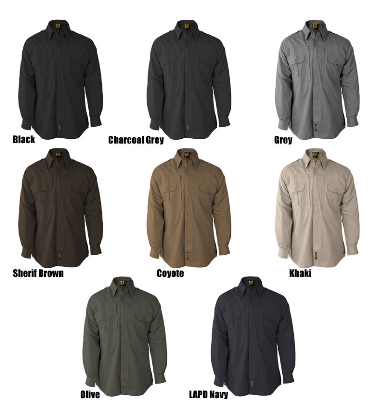 Blauer's website offers three different types of tactical shirt that will give you a lean look and a comfortable fit. These shirts are can be used as working attire in the field for law enforcement officers, fire responders, EMS, EMT, and military. The long sleeved B.DU shirt is available in three different colors including black, green, and dark navy. They are constructed with athletic stretch siding and mesh for comfort and breathability. The mesh also works to combat body orders due to perspiration. To ensure protection the shirt is made with rip-stop materials and abrasion-resistant nylon. The short sleeved B.DU shirt is available in dark navy only. It is also made with athletic stretch siding. The bi-swing shoulders provide a great range of motion. With hidden document storage pockets and adjustable cuffs, uniform shirts from Blauer truly help you get the job done.
The multi-cam long sleeved tactical shirt is made with light weight cotton and nylon for resilience and comfort. It is traditionally a marine style garment with an adjustable collar. Customer's review bolster the durability of this clothing created for people who crawl through brush and dirt, among other strenuous activity. One review says "Would recommend this tactical shirt, wears great and very durable."
Whether you're a fireman, in the law enforcement, EMS personnel, or in the military these tactical shirts will last you for a while with their durability. Exert your best effort and excel in your profession without worrying about your tactical clothing. This selection of shirts will keep you looking lean and will give your body breathability during high temperatures. If you want something that endures and protects at an affordable price, these shirts will prove their worth. Pick one out of this great collection and put it to the test and stop wasting your money on constantly replacing your gear.