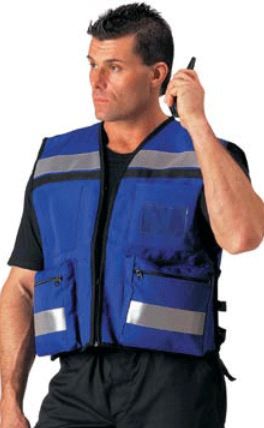 High visibility vests with pockets are in the form ofsleeveless or sleeved jackets worn over regular clothes. The main feature of these jackets is that they are made using fluorescent colors, such as lime, blue, yellow, red and orange and ensure that wearer is easily visible in both bright and dark areas. Most of the high visibility vests come with horizontal and vertical reflective stripes both in the front and at the back that reflect light falling on them thus making the wearer conspicuous, especially at night. The sole aim of this type of clothing is to ensure safety of wearer by reducing the chances of accidents.
In any emergency situation, all those who are involved in disaster management can easily stand out of the crowd by wearing such clothing, which makes it easy for victims to find them in the crowd. While it is important for people in some professions such as firefighters, police, runway personnel, construction site workers, and paramedics to wear high visibility vests, others like bicycle and motorbike riders as well as pedestrians should also use these jackets for their own safety. These jackets make them easily visible even at night when light of other vehicles fall on them.
The high visibility vests with pockets are made according to the approved safety standards. The clothing material is generally PVC and polyester to make it fully waterproof. Some jackets, especially the ones used by firefighters are made using highly fire resistant material. If you are interested in buying high visibility vests, you must understand its fastening system before buying the jacket. Velcro fastening is safe and fast than buttons and zips. In any emergency situation when these vests are fixed to a moving vehicle and have to be quickly removed, Velcro fastening system will work better.
Huge variety is available online
Government services and businesses who are interested in these jackets and vests for their employees can get their logo imprinted on them in fluorescent colors. This is great for users as well as the people who are interested in their services. You can also get these Jackets for people working in different professions, such as red for firefighters, green for paramedics and blue for police personnel. When you buy online, you get a huge variety and bulk discount which may save you good money. Most of the reputable companies have sufficient stocks to ship bulk orders.