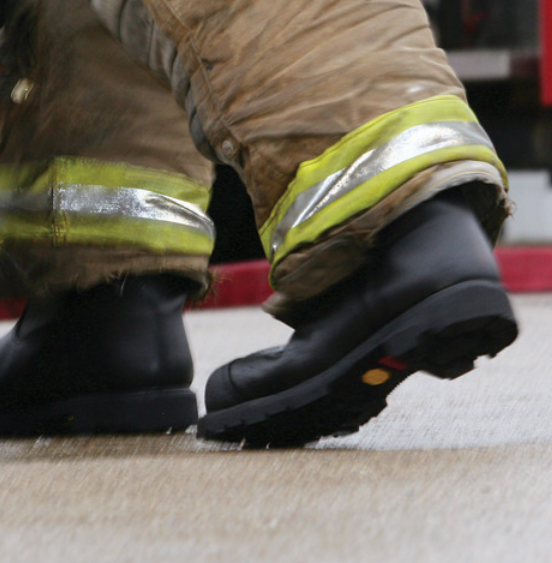 High Standards for Fire Footwear
Few professions demand such rugged and specifically manufactured footwear as firefighters. Firefighter boots are a crucial piece of turnout gear, protecting firefighters' feet, ankles, and lower legs from myriad hazards. From the toe up, every piece of firefighter turnout gear is crucial, working to protect each part of their body. Helmets and hoods, gloves, pants – each article helps protect a firefighter from extreme heat and hostile environments inherent to emergency situations. All firefighter turnout gear must adhere to specific National Fire Protection Association (NFPA) guidelines in order to be certified to be used by firefighters.
NFPA 1977 Standards
Firefighter turnout boots also have incredibly strict guidelines that must be followed, and there are different guidelines for wildfire fighting, and structural fire fighting boots. According to the NFPA 1977 standards on protective clothing and equipment for wildland fire fighting, there are eleven standards that wildfire firefighter boots must meet. The boots must, of course, be resistant to heat and not melt or delaminate under heating tests. Also, the inside sole may not exceed 111 degrees Fahrenheit in conductive heat tests. All metal parts of the boots must be corrosion resistant, and not show more than light surface corrosion. The boots must also be cut, puncture, and abrasion resistant, to avoid being damaged when a firefighter steps on sharp objects like nails, or scrapes up against rough or hot surfaces. The soles of the boots must also be slip resistant, which is important when navigating through steep terrain, wet surfaces, or any other potentially slippery surfaces. The eyelets and hooks must be tests for attachment strength, and should not be able to be pulled off. The entire boot must be flame resistant and should not catch on fire, melt, or have an afterflame longer than two seconds. The threads used to sew the boots must also be resistant to heat, and should not melt, char, or catch on fire. Lastly, the label should be legible and durable, and must remain in place.
NFPA 1971 Standards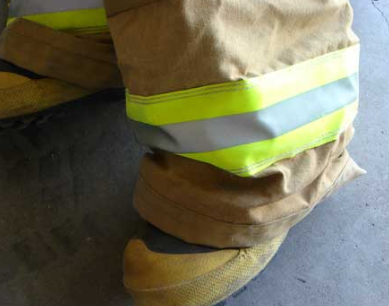 NFPA 1971 standards on protective ensembles for structural fire fighting and proximity fire fighting outline eight standards that must be met, many very similar to the wildland guidelines noted above. The first is that firefighter boots should be resistant to liquid penetration, and be able to resist liquid penetration for at least one hour. In addition, they must be resistant to water. They must also be puncture resistant, to avoid cutting or damaging the boots when stepping on sharp objects like nail, sharp metal objections, etc. The footwear must also be resistant to electricity and pass an electrical insulation test. The toes must also pass an impact and compression resistance test, which is usually solved by a boron steel toe insert. The boots must also be resistant to bending and flex cracking, and should never show signs of flex cracking. Additionally, firefighter boots must pass a radiant reflecting performance test and a thermal insulation test, where the temperature of the upper lining should not reach 111 degrees in ten minutes or less.
It is clear that firefighter turnout gear is critically important to firefighters getting their jobs done safely and efficiently. The NFPA standards that must be met ensure a minimum level of protection and defense, however, that should never be a substitute for proper training, conditioning, and working as a team. No matter how good a firefighter's gear is, it does have limitations. That is why great gear combined with proper training and teamwork is crucial to every fire department's continued safety and success.